Vampire GT Supercar


General Information

Project ID

13666

Author

Link

Statistics

2,600+ supporters

435+ comments

25+ bookmarked

82,000+ views
Vampire GT Supercar is a project on LEGO CUUSOO created by Crowkillers. It is a LEGO Technic supercar that was uploaded to LEGO CUUSOO on April 4th, 2012.   
This message was written by the creator of the project. Do not modify the message in any way.
***Update 5-26-2012: The Vampire GT Charity Auction ended today on Ebay and Raised $1,626 for Make-A-Wish!!!
Thanks to Derek Ward from the United Kingdom for his Generous Heart and Even more Generous Donation. Together we will help make a youngster's Wish come true! I hope you enjoy the Vampire GT that you have won! I loved Designing it! Hopefully everyone will get to own one someday soon! ;)
4-4-2012
After numerous e-mails insisting that I submit a model to Cuusoo, I finally decided to submit something that I felt is probably my best design and could have a Legitimate shot at reaching the intended goal... The model contains just over 1,900 parts and would probably fall into the $150 USD range as it has no power functions elements as I instead chose to incorporate manual features... This model has several parts that have been discontinued like the Black 19 length Flexible Axles and Black Bushings...
The model features a newly styled 5 Speed + Reverse All Wheel Drive Transmission that follows the same shifting pattern as the Ford Mustang and also has a switch built into the Dash that transfers power from the Rear Wheels to all 4 Wheels... It also has a Rear Mounted V10 Engine...
Gear ratios are as Follows:
1st Gear 2.08 : 1 2nd Gear 1.60 : 1 3rd Gear 1.25 : 1 4th Gear 1 : 1 5th Gear .75 : 1 Reverse 2.25 : 1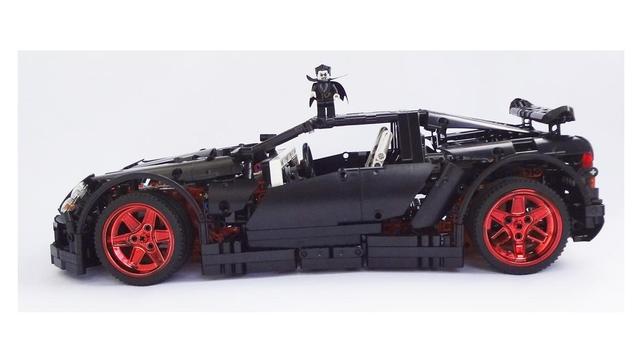 Each Gullwing Door opens and closes by Turning a small bevel gear in the rear of the car... the Rear Hatch and Hood also Open and Close...
The Model Features fully functional Dashborad and "Hand of God" Steering along with 4 wheel independent Suspension...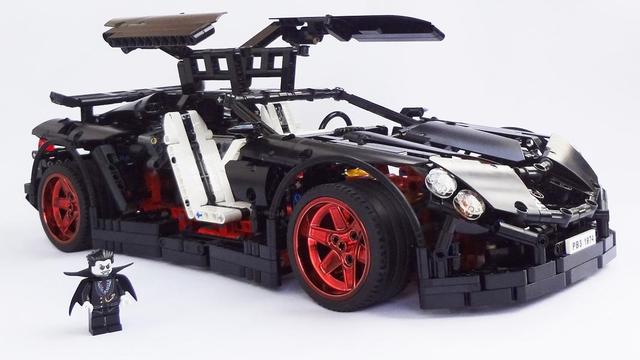 Video of the Car and it's functions
More Pictures available here
Vampire GT press article
See more information of VampireGT Supercar
This message was written by the LEGO CUUSOO Team. Do not modify the message in any way.
Congratulatory message from LEGO for +500 votes
2012.04.17
Congratulations on achieving over 500 supporters! This is an exquisitely designed and executed original supercar that on its own merits deserves a place next to the LEGO Technic supercars we have produced to date. Your extra touches like the red chrome wheels, all-wheel drive, and gull wing doors make the model. Best of luck on your journey to 10,000 supporters!
The LEGO CUUSOO Team
Ad blocker interference detected!
Wikia is a free-to-use site that makes money from advertising. We have a modified experience for viewers using ad blockers

Wikia is not accessible if you've made further modifications. Remove the custom ad blocker rule(s) and the page will load as expected.