UCS All Terrain Armoured Transport


General Information

Project ID

14597

Author

Link

Statistics

3,004 supporters

279 comments

28 bookmarked

52,182 views
UCS All Terrain Armoured Transport is a project created by cavegod on April 19th, 2012. Several users have accused the creator of building it out of something other than LEGO bricks, the creator however, affirms that it is built entirely out of LEGO bricks, except for two elastic bands. After the archiving of the UCS Sandcrawler, the creator gave up hope and changed the description, saying that was no way that the project would make it pass the review.
This message was written by the creator of the project. Do not modify the message in any way.
Hi all, this is my UCS AT-AT. It is built entirely out of Lego with only 2 parts being none Lego, namely elastic bands, 1 in the head and 1 in the body. No parts were glued and there are around 6000 pc's giving it a total weight of 7.6KG.
More pictures here:
http://www.flickr.com/photos/42956921@N08/sets/72157623737024725/
Video:
http://www.youtube.com/watch?v=1hhVucCLXSk&feature=player_embedded#!
With the failure of MB's Sandcrawler to pass the review stage, this will never pass the review either.
If you would like to own your own copy then please send me a msg on Flickr or Eurobricks/Brickset.
Pete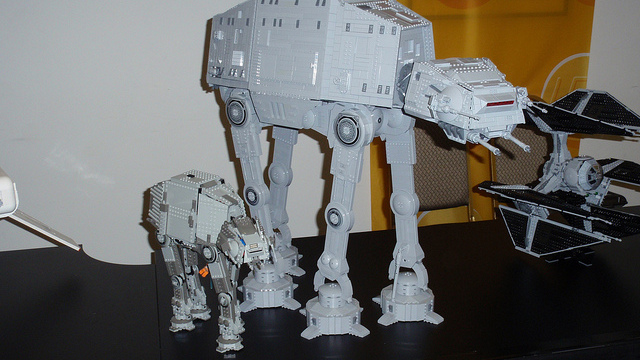 4483 with my UCS version.
This message was written by the LEGO CUUSOO Team. Do not modify the message in any way.
Congratulations on 1,000+ supporters!
2012.12.11
No Jedi could stand a chance against this UCS AT-AT, and no Star Wars fan's collection would be complete without one! Whether deep down you're a Rebel or on the side of the Galactic Empire, it's hard not to appreciate this build. We wish you good luck on your journey to 10,000 supporters!
The LEGO CUUSOO Team
Ad blocker interference detected!
Wikia is a free-to-use site that makes money from advertising. We have a modified experience for viewers using ad blockers

Wikia is not accessible if you've made further modifications. Remove the custom ad blocker rule(s) and the page will load as expected.