The Goonies 30th Anniversary


General Information

Project ID

45109

Author

Link

Statistics

1,050 supporters

197 comments

5 bookmarked

16,250 views
 The Goonies 30th Anniversary is a project on LEGO CUUSOO created by Lyonsblood on July 26th, 2013. Just under two months later, it reached 1,000 supporters.
This message was written by the creator of the project. Do not modify the message in any way.
First off I would like to thank the fine people at The Brick Show for taking the time to make a youtube video feature for my set. Thank-you guys! You are awesome!
Now to business. The Goonies is one of the most iconic movies of the 1980's. It gave us adventure, pirates, mobsters, the loveable Sloth and of course, the Truffle Shuffle! It was an action packed movie told through the eyes of children. Even now, The Goonies is very much represented in modern popular culture. T-Shirts, Badges and other apparel are all available everywhere. There was even a release of several action figures a few years ago, as a franchise it is still very popular. In 2015, the Goonies will be 30 years old, so what better time than now to start a Cuusoo campaign to reignite Lego's interest in this franchise in time for the celberation? With the success of the Back to the Future set, and Ghostbusters equally riding high in the Cuusoo charts, there's definately enough interest in retro movies from the 80's. My campaign offers up all our favourite characters in Mini-Figure form, as well as concepts for several interconnecting sets, which will help kids (and adults) to re-enact the story from start to finish. In regards to Lego's brand standards,The Goonies very much fits into the ethics that Lego believe in. It's fun, exciting and offers many possibilities for expansion. It is also very reminiscent of other existing Lego licensed products such as Indiana Jones and Harry Potter, and just like everyone's favourite wizard. Everything is centred on children as the main protagonists. It also has the added appeal of being a nostalgic setpiece that the older collectors of Lego will cherish.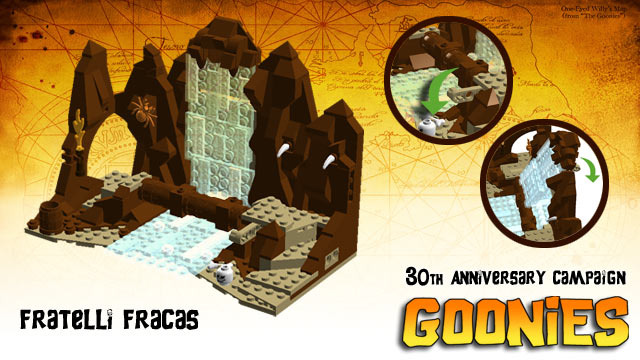 Brand New!! 31/07/13 - "Fratelli Fracas"
The second set to feature in my campaign. This is smaller than 'Skeleton Scare', by roughly 1/3rd scale. So it has the appeal of being a more affordable set for some.
This is based on the scene where The Goonies are being chased by the Fratelli's. Their only escape is to cross a raging waterfall with only a log to use as bridge. When the bad guys get too close, Data uses his 'slick shoes' to make things a little slippy for the Fratelli brothers.
The set features the log bridge and waterfall as main features. The log is attatched to a lever which allows you to 'shake' the log, making it harder for the Fratelli's to keep balance. If that isn't enough, there is a hidden lever at the back of the waterfall which pushes the water out, 'flooding' the bridge and knocking off anyone trying to cross over.
In this set, there would be 4 minifigures.
Data
Mama Fratelli
Francis Fratelli
Jake Fratelli
For a larger pic go to my Lego Goonies Facebook Page
This set has the added bonus of actually connecting to 'Skeleton Scare' to make one bigger action scene that flows exactly the same way as the movie does.
Above is my first featured set, 'Skeleton Scare'.
This scene helps re-enact the moment in the film that the Goonies have to play notes on a scary musical organ made from the bones of pirates. If they get the notes wrong, the floor caves in, revealing jagged rocks below. If they play the notes right, they open the secret panel which reveals a water slide that they will eventually ride down to discover a wonderful pirate treasure.
I took a lot of time to design 'function' into the set. Most Lego playsets today have some kind of interactive quality. So I have made the floor collapsible, as well as a lever to lower and raise the secret panel. The cave under the main scene is full of 'jagged rocks' but is big enough to fit minifigures in and the cave is littered with skeleton parts. So there are lots of things to play with.
I also made a point of trying to make the cave as exciting and interesting to build as possible. This is not just a 'box'. The cave walls are carefully crafted to reflect the organic nature of the underground environment.

Of course like any major Lego franchise, there has to be Minifigures. I have designed all of the Goonies, as well as Sloth. I also intend to design the Fratelli's, the bad guys of the movie.
'Skeleton Scare' would feature the following figures:
Mikey
Brandon
Steff
Andy
Mouth
Data appears in 'Fratelli Fracas' while Sloth and Chunk will make an appearance in another set. For a larger pic go to my Lego Goonies Facebook Page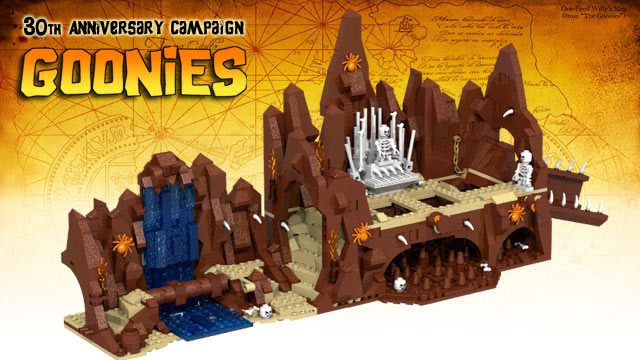 Above we have both sets combined into one, and I'm really happy with how they interconnect. I designed it to have a path which 'weaves' through both sets organicly.
Below we have closeups of the minifigures I've designed. Apart from the various 'print' requirements all the hair pieces are taken from other sets, except for Data and Sloth.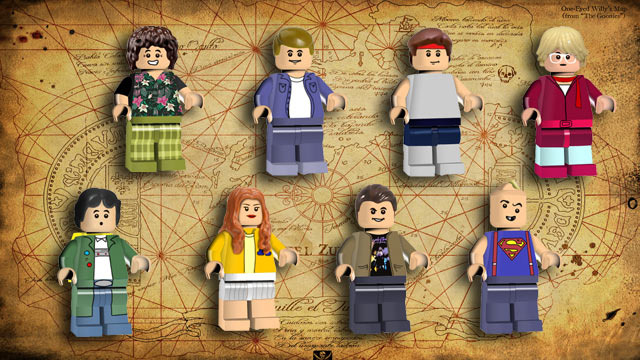 Please stay tuned for more updates. I intend to make several other sets of various sizes which connect to this one. I shall also post up photos of this set once it has been built in real life.
You can also visit my campaign page on Facebook, I shall be posting up extra photos of the sets and minifigures fairly regularly.
Lego Goonies Facebook Page
---
Update 02/09/13
I have a youtube video !!
---
Update 23/08/13
Wow, 500 votes in just 4 weeks! thankyou for everyone who has voted so far!
---
Update 14/08/13
There has been quite a surge in voting these past few days so I would like to thank anyone who has voted. At the time of writing we are just over the 300 mark.
Today I am adding some new photo-rendered versions of the set. I would like to thank my fellow Cuusoo member 'GlenBricker' for his help and time in getting these done. it is very much appreciated. Please check out Glenbricker's Project Page

He has some amazing projects to look at.
Please also take a look at his excellent Lego Blog
For closeup views of the fully rendered Goonies sets, please check out my Lego Goonies Facebook Page
---
Update 31/07/13
Thankyou everyone for the first 100 votes. In 5 days that's excellent!
I've uploaded the second set 'Fratelli Fracas' today as well as rejigging some of the images.
---
Update 28/07/13
I've made some changes to the overall set design. I've changed the slide, given it smaller 'tusks', mostly due to the cost of the larger pieces, but in hindsight, it has made the slide more accessable for play. So that's a good thing. I've also changed the colour of the bricks at the back of the cave section from dark brown to black. I think this helps to contrast the jagged rocks sticking up from the ground, you can see them better now as before the rocks and background were the same colour. Now the set has more depth. I've added a chain that is attatched to the secret passage wall, as well as adding some more skeleton parts to the far right of the set. Just to add some decoration and further play options.
Thanks for checking this set out. I hope you like it, please vote and share as much as possible. I really believe that this is a great opportunity for Lego to embrace a most beloved movie of the 80's. It doesn't matter how old the movie gets, it still reminds us that we're all still kids inside.
This message was written by the LEGO CUUSOO Team. Do not modify the message in any way.
Congratulations on 1,000 Supporters!
2013.09.20
Goonies never say die! And neither do the fans that support this. This project captures the spirit of this cult classic - The "Goon Docks" friends would be proud.
Best of luck as you continue on your treasure hunt to achieving 10,000 supporters!
I'm gettin' outta here. I'm... I smell ice cream!
The LEGO CUUSOO Team
Ad blocker interference detected!
Wikia is a free-to-use site that makes money from advertising. We have a modified experience for viewers using ad blockers

Wikia is not accessible if you've made further modifications. Remove the custom ad blocker rule(s) and the page will load as expected.