The C.C.S. Gryphon - Galaxy Command


General Information

Project ID

36847

Author

Link

Statistics

496+ supporters

263+ comments

6 bookmarked

7,473+ views
The C.C.S. Gryphon - Galaxy Command is a project on LEGO CUUSOO created by reekardoo. Reekardoo also collaborates with KitBricksto and GlenBricker on this project. It was originally part of the Galaxy Command project, but was released separately to not only increase the chances of a Galaxy Command creation being produced, but also to make sure that this model, the obvious favorite, would be produced as one set; leaving room for another model on the Galaxy Command project, and allowing more than one Galaxy Command set to be produced. A similar thing was done with the Void Fighter.
This message was written by the creator of the project. Do not modify the message in any way.
SUPPORT
GALAXY COMMAND
!
and The Void Fighter
The C.C.S. Gryphon
The Gryphon is a carrier class shuttle from the GALAXY COMMAND universe. If you like this please visit Galaxy Command and give us your support there as well!
Read all about this fantastic space saga in our blog Galaxy Command Chronicles
Hard Core fans can really help us out by "Liking" this project on Rebrick too.

This project, is the direct result of a collaboration between the creators Reekardoo, Kit Bricksto , and GlenBricker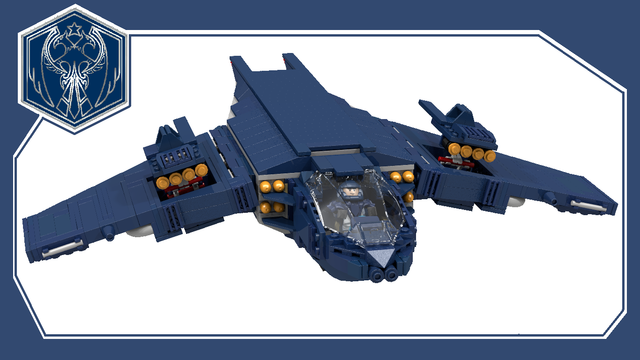 Also named "Big Bird"by its pilots, the Carrier Class Shuttle Gryphon has long been the warhorse of the H.U.N. forces. It was conceived, even before the Bug Wars, as a troop carrier vehicle, able to deploy forces in the front line. For that purpose it was fully covered in heavy armour plating and it had the fastest turbo jet engines available at the time. This ship eventually suffered several changes and modification during the course of the war. It's armour plating was reinforced and the new Atlas power engines were used, making it faster than ever while still providing enough room for four commandos plus a pilot.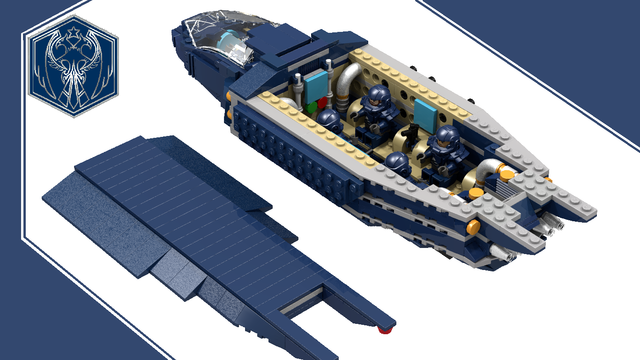 Just prior to the Nebulon invasion, the H.U.N.'s Technology department, lead by prominent Dr. Reekardoo, gave it a complete makeover. Besides incorporating a payload of four Stinger Bombs on each wing, the new Laser Charge Blasters were added to the Gryphon – capable of causing havoc on a capital ship. Also, it possessed a new targeting system that was near flawless, along with the traditional eight seventh generation Bullseye missiles.
Its armour plating was reinforced and using the new Atlas power engines made it faster than ever while still providing enough room for four commandos plus a pilot. As Mecha Unit Commander Volk would say: "The only thing missing here is a family size bed!"
THANKS FOR VISITING! PLEASE SUPPORT AND COMMENT! DON'T FORGET TO CHECK ON OUR OTHER PROJECTS! THEY NEED SUPPORT TOO! THANKS! More pictures here.
GlenBricker
Ad blocker interference detected!
Wikia is a free-to-use site that makes money from advertising. We have a modified experience for viewers using ad blockers

Wikia is not accessible if you've made further modifications. Remove the custom ad blocker rule(s) and the page will load as expected.