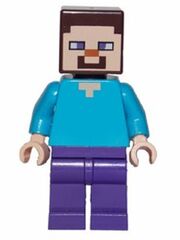 Steve
 is a Micro Mob and Minifigure who was first introduced in 2012.
Appearances
Notes
In the set, he comes with extra 1x1 tiles for his face, hair, and legs, so the builder can make another Steve if they have another blue 1x1 brick.
Ad blocker interference detected!
Wikia is a free-to-use site that makes money from advertising. We have a modified experience for viewers using ad blockers

Wikia is not accessible if you've made further modifications. Remove the custom ad blocker rule(s) and the page will load as expected.