Robotech: Veritech Fighter VF-1S


General Information

Project ID

39360

Author

Link

Statistics

933 supporters

77 comments

9 bookmarked

16,000+ views
Robotech: Veritech Fighter VF-1S is a project on LEGO CUUSOO created by daikoncat on April 23rd, 2013.   The creator considered changing the project from Robotech to a generic theme in order to avoid any possible licensing problems. After learning that projects have been deleted because of changes in IP, the creator decided to keep the Robotech theme.
This message was written by the creator of the project. Do not modify the message in any way.
---
If you happened to reach this page by chance then you are probably wondering just what is Cuusoo all about.
Cuusoo is a site where people can submit ideas for new LEGO products. If the project idea is able to accumulate 10,000 Supporters, then LEGO will review the project and considered it to be mass produced as an official LEGO set, thus making it available to everyone.
A lot of people have been inquiring about where to get the build instructions or if we sell them a set. If you really want your very own LEGO Robotech Veritech Fighter then please create an account and vote for this project (You can also log-in using your facebook or twitter account)! There is absolutely no obligation and it will only take less than 5 minutes of your time. Also, you can also help out in spreading the word and letting other people who may be interested know about the project.
A big thanks to our current supporters! It will be a long road to 10,000 but we will not give up hope!
---
The Concept:
Earth, in the not so distant future: An alien ship appears out of nowhere and crash lands on the deserted Macross island. The ship is explored by all the nations of the planet who learn of a potential extraterrestrial threat that could come to retrieve it. In response, the nations of the world unite to create the United Nations Space Navy, or UN Spacy for short. For ten years, the ship is rebuilt as the Super Dimensional Fortress One (SDF-1) and its technology is adopted for use. During this process it was quickly discovered that the aliens who built the ship were actually a race of giant warriors! To be able to counter that threat, the UN Spacy developed a variable fighter, that can not only rule both air and space, but also fight any giant alien invader hand-to-hand on the ground! This variable fighter would soon be known as the the VF-1 Veritech Fighter....
This model above is a replica the iconic VF-1S Veritech Skull Leader (piloted by Roy Fokker, and later Rick Hunter) from the Robotech/Macross series. The model not only is fully transformable, but it is also proportional in all three modes: Fighter, Guardian, and Battloid.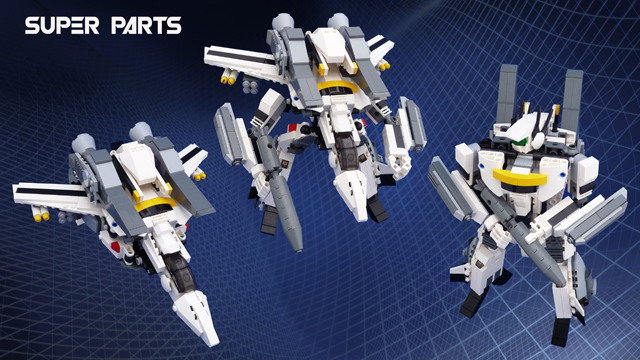 This model consists of both Standard LEGO bricks and Technic pieces, no custom bricks/pieces were used. The end result is a transformable model that not only closely resembles the original designs but is very much playable and is solid in all three forms. In Battloid (robot) mode, the model stands approximately 10.5 inches (266.7 mm) tall.
Check out my video of this models transformation sequence on Youtube!
The model also comes with additional accessories that would each be separate LEGO mini builds. Builders can have fun mixing and matching their Veritech fighters weapons to create their own battle ready Veritech fighter! In the picture above we see the the VF-1S with the added super parts (fast packs).
The ultimate goal for this project would be to introduce the Robotech/Macross series to a new generation of fans, as well as bring a sense of nostalgia to those older LEGO fans who remember it. I also hope that this kit ignites the imaginations of the younger fans and inspire them to create things that may seem impossible at first.
I am sure there are thousands of LEGO fans who remember this series and would love to see LEGO release an official set. That being said, I believe that this product would be a big hit for LEGO, and a unique addition to their current line-up.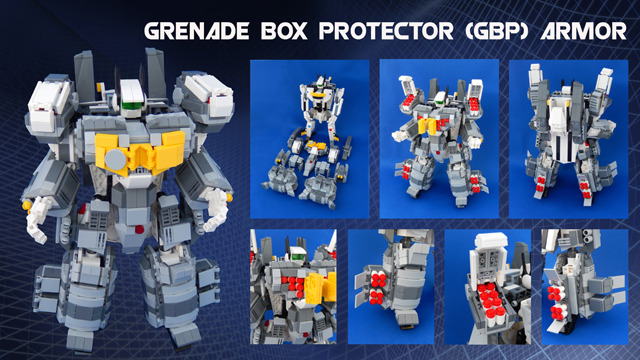 Background Story:
Growing up in the 80's my favorite show on television was the animated series called Robotech (originally known as Macross). The series featured the Veritech (Valkyrie) fighter. A craft that was able to transform from a fighter jet resembling a F-14 Tomcat, to a giant mechanized robot.
As a child, I did not have that many Robotech toys, and I certainly did not have a toy Veritech that transformed. So, I resorted to try and build one of mine own using LEGO bricks! But no matter how many times I tried, the task always seemed impossible. My creations were never anywhere close to what I had seen in the animation, but my young imaginative spirit still pushed me to keep trying. I always dreamed to one day be successful with my builds. However, as I grew older, I eventually stopped playing with LEGO, and that dream eventually faded away.
It wasn't until decades later in 2010, when my girlfriend and I bought the board game LEGO Creationary. It was this clever little board game that reignited that same imaginative spirit that I had once had as a child. We both ended up becoming avid LEGO fans and in 2011 we started to do our own MOC.
I quickly discovered that LEGO offered larger variety of pieces than they did over 20 years ago. After getting familiar with the new parts available, I decided to try again what I had once dreamed to be able to do as a child...build a transformable Veritech fighter using LEGO!
For additional photos of this creation, please check out my Flickr page: Daikoncat's photo stream
For more information and the latest news about this project, please visit: Daikoncat's Facebook page
UPDATES:
2013/07/01: Official photos of my VF-1A Max Type have been posted on Flickr. Please check it out here!
2013/06/14: The VF-1A, VF-1D, and VF-1J are coming soon. Please keep checking back for updates!
2013/06/05: Come visit our official webpage for an important message for our supporters!
2013/06/02: Official photos of my VF-1S Strike Valkyrie and Armored Valkyrie have been posted on Flickr. Please check it out here!
Project History:
100 Supporters: 2013/5/16 500 Supporters: - 2013/6/18 1000 Supporters: - Next Milestone!
Media Coverage: The Brother's Brick (2013/4/15): The Jolly Roger Transforms
Kotaku (2013/4/16): Macross/Robotech LEGO That Transforms. I Can Die Now
Daily News Agency (2013/4/17): レゴで完全変形達成、マクロスに登場する可変戦闘機「VF-1 バルキリー」を再現
LEGOMACROSS (2013/4/20): Daikoncat's VF-1S Valkyrie Skull Leader
IT Media (2013/4/21): 3段変形も完全再現! レゴで作った「VF-1 バルキリー」が完璧すぎる
The Lego Car Blog (2013/5/1): Ride of the Valkyrie
Brickfans.com (2013/6/28): BrickBuilders Spotlight: Daikoncat
Ad blocker interference detected!
Wikia is a free-to-use site that makes money from advertising. We have a modified experience for viewers using ad blockers

Wikia is not accessible if you've made further modifications. Remove the custom ad blocker rule(s) and the page will load as expected.