Red Squirrel


General Information

Project ID

7162

Author

Link

Statistics

3,170+ supporters

439+ comments

39+ bookmarked

53,205+ views
Red Squirrel is an project on LEGO CUUSOO created by Vuurzoon on December 24th, 2011.  The project attempts to create a realisitc squirrel from LEGO building bricks.
This message was written by the creator of the project. Do not modify the message in any way.
Let me introduce you to this cute squirrel:
It's an Eurasian Red Squirrel (Sciurus vulgaris). This squirrel species has, as the name suggests, a beautiful reddish-brown color. The LEGO squirrel is a female and is built in true scale.
LEGO has produced many great animal sets. They are in general very suitable for playing. The idea is to release animal sets that look as realistic as possible, without compromising for playability. By building in true scale, they look even more real. These sets must be a challenge to build, also for adult builders. The red squirrel is a good example: the organic shapes and hairy tail are great fun to build. After building, it can be displayed as a sculpture. For instance in your living room or even in your garden?
I hope you like it! You can bring this idea one step closer to production, by clicking the support button.

Enjoy LEGO building! Arjen Vuurzoon.LEGO Life Size Animal sets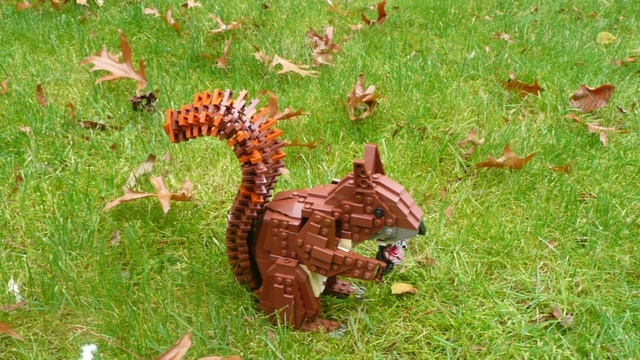 Imagine all the great Life Size Animal sets that LEGO can release! What would you like?
A tiny hamster or a cute rabbit? A flying water bat or a bird, like the fast falcon? A squirrel collection including the European Red squirrel, the American Eastern Grey squirrel & the Indian Palm squirrel? Or would you like a complete animal collection?
Your comments are welcome! LEGO Red Squirrel set
The squirrel can be the first Life Size Animal set to release. She's built with 650 LEGO bricks. After a small comparison with other LEGO sets, I can imagine that LEGO can bring this squirrel on the market for a price of 50 to 70 Dollar.
VIDEO: Discover how this squirrel is made in the Red Squirrel Video.
More squirrel info on MOCpages
If you like LEGO animals you also may like the LEGO bird series by DeTomaso. His bird creations are magnificent and show his passion for nature.
This message was written by the LEGO CUUSOO Team. Do not modify the message in any way.
Congratulations on 1,000+ Supporters!
July 7th, 2012
Dear Vuurzoon,
Congratulations on all of the supporters! This is a really great build of a Red Squirrel. You've managed to turn basic elements and great SNOT techniques into a very cute and lifelike model.
Best of luck on your journey to 10,000 supporters!
The LEGO CUUSOO Team
The LEGO CUUSOO Team
Ad blocker interference detected!
Wikia is a free-to-use site that makes money from advertising. We have a modified experience for viewers using ad blockers

Wikia is not accessible if you've made further modifications. Remove the custom ad blocker rule(s) and the page will load as expected.