Minas Tirith Microbuild


General Information

Project ID

17647

Author

Link

Statistics

650 supporters

148 comments

25 bookmarked

20,986 views
Minas Tirith Microbuild is a project on LEGO CUUSOO created by Shayd_DeGrai on May 28th, 2012. Though some have asked the creator to build a minifigure scale Minas Tirith, he refused saying that "it would be as big as my house".
This message was written by the creator of the project. Do not modify the message in any way.
The White City, City of Kings, Capital of Gondor
Continuing my series of Lord of the Rings micro-builds, I humbly offer my interpretation of Minas Tirith, the seven tiered city overlooking the Pelennor Fields and the banks of the the Anduin.
The model is 32 studs square and about the same length in height if you count the very tip of the tower. It's something of a mega-micro-build in that it's made from a very large number of very small parts for its size
As this is relatively small model of an entire city, I tried to give it as much depth of detail as I could (unlike some of my other, more Architecture-like abstractions.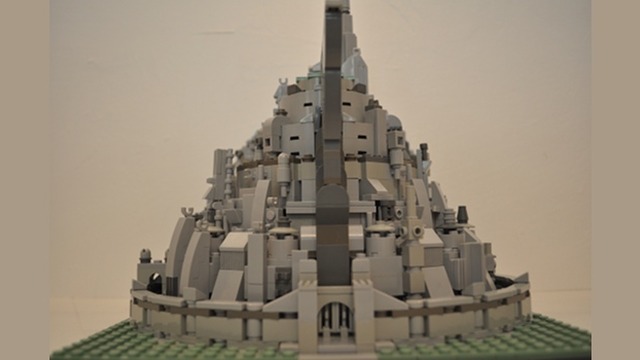 I was shooting for something with a distinctly recognizable shape that would catch the eye from across the room and reward those who bothered to take a closer look with tiny archways, causeways and spires that make the a city feel more organic and alive than any single structure within it.
Middle Earth is rich with iconic structures and locations. I propose a Lord of the Rings series targeted at adult fans of Lego and (potentially non-Lego) LOTR collectors. Each kit in the line would be an abstraction of an iconic place in Middle Earth similar to the current Architecture line in scale and packaging.
Just as the Architecture kits include snippets of the history of the real buildings they portray, the LOTR Architecture kits could include production notes from the films and/or synopses from the books.

If you like this model, please support it and don't forget to check out my other LOTR ideas.
Thank you for your consideration.
UPDATE: This little guy has finally crept its way to 200 votes. My sincere thanks go out to all of its supporters. I also offer a very special thanks to those (that I know of) who have chosen to give this model favorable mention on their own, external sites, including:
GlenBricker and his always informative CUUSOO blog and joedes' video review in YouTube
If I've missed somebody, I apologize. Drop me a note in the comments section and I'll gladly update the acknowledgements.
Thanks again to all.
Ad blocker interference detected!
Wikia is a free-to-use site that makes money from advertising. We have a modified experience for viewers using ad blockers

Wikia is not accessible if you've made further modifications. Remove the custom ad blocker rule(s) and the page will load as expected.