Lord of the rings: Nazgûl on Fell Beast


General Information

Project ID

41453

Author

Link

Statistics

1,773 supporters

260 comments

14 bookmarked

131,152 views
Lord of the rings: Nazgul on Fell Beast (updated) is a project on LEGO CUUSOO by captainsmog. It was created on June 3rd, 2013. The project is based on The Lord of the Rings; it depicts a Ringwraith riding his terrifying Fell Beast. When asked what the neck of the Fell Beast was made of, he replied "reversed tires". However, this design was later replaced by a neck composed mainly of Hero Factory parts.
This message was written by the creator of the project. Do not modify the message in any way.
LOTR: Ringwraith riding his feared Fell Beast
Articulated action figure or decorative statue

First of all, thank you for visiting this page!
Being a big fan of the Lord Of The Rings films, I felt the urge to bring a cool "Fell Beast" to life (with LEGO bricks, of course!) when LEGO brought us the "Middle Earth" themed sets.
I would love that every LOTR fan could have this dreadful monster at home and make sweet dreams, full of Nazgûls... ;-)
Ideally, I'd love that the rider of that beast be the Witch King with his particular helmet.
The beast measures 17.7 inches / 45cm long and 19.6 inches / 50cm of wingspan. It is fully articulated and can take many poses.
"Do not come between the Nazgul and his prey!"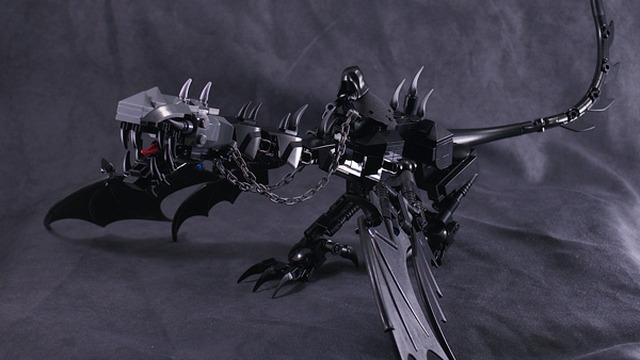 The beast can be separated from its peak / pedestal.

__________________________________________
PROJECT TIMELINE 1000 Supporters! - 21th Sept 2013
600 Supporters - 11th Jul 2013
500 Supporters - 21th Jun 2013
100 Supporters - 4th Jun 2013
50 Supporters - 4th Jun 2013

0 Supporters - 3rd Jun 2013
This message was written by the LEGO CUUSOO Team. Do not modify the message in any way.
Congratulations on 1,000 Supporters!
2013.09.23
"And behold! It was a winged creature…" That's putting it mildly. The fell beasts are monsters to match the hideous nature of the Nazgûls, and you've brought this one to life! This project is terrifying in its beauty.
Good luck as you work toward 10,000 supporters!
The LEGO CUUSOO Team
Ad blocker interference detected!
Wikia is a free-to-use site that makes money from advertising. We have a modified experience for viewers using ad blockers

Wikia is not accessible if you've made further modifications. Remove the custom ad blocker rule(s) and the page will load as expected.