Ladyada's Workshop!


General Information

Project ID

17491

Author

Link

Statistics

2,738 supporters

176 comments

6 bookmarked

62,900+ views
Ladyada's Workshop! is a project on LEGO CUUSOO created by adafruit on May 23rd, 2012. She collaborates with Bruce Lowell (who does not have a LEGO CUUSOO account) on this project. It has been the center of some controversy due to Adafruit commissioning Bruce, a professional LEGO builder, to construct the project. Another thing pointed out about it is the size of the massive Adafruit logo on the back wall, which makes the project look more like an advertisement for the Adafruit company. Of course, adafruit has denied that the logo is an advertisement, and said:
"...i don't the logo will be part of it unless LEGO wants to do that and we get enough votes. the goal is for young people to see and make the equipment i use as an engineer and maker in my workshop / hackerspace. please see LEGO's official comments as well!"
Despite the controversy, over 2,700 users have supported it.
This message was written by the creator of the project. Do not modify the message in any way.
Ladyada's workshop is a place where you explore all the cool things you build and use when you're an engineer! Computers, pick-and-place machine, laser cutter, soldering station and more! In Ladyada's workshop you can run your own open-source hardware electronics company, complete with Mosfet the cat.
Here's Ladyada and Mosfet at the Adafruit workshop. They work on making electronics for young people who might want to be designers, scientists and engineers! Adafruit was founded in 2005 by MIT engineer Limor "Ladyada" Fried. Her goal was to create the best place for learning electronics and making the best designed products for makers of all ages and skill levels.
This is a pick-and-place machine. It uses cameras to pick up super-tiny parts to make the circuit boards you'd find in computers, cell phones, TVs and pretty much anything electronic!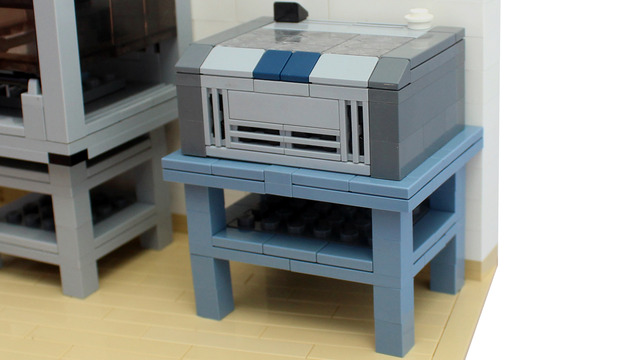 This is a laser cutter. It can cut plastic, etch wood and help make many of the enclosures for electronic projects.
This is Ladyada's desk, she uses a computer, a soldering iron, microscope and other tools to design electronics!
---
Update: As per LEGO's request - Bruce Lowell, collaborated with Adafruit on the following project (
http://lego.cuusoo.com/ideas/view/17491
). Bruce agrees to allow his original work to be included in the project per the LEGO CUUSOO Terms of Service. Bruce also understands that the LEGO Group's agreement is with the primary project owner, and Bruce is responsible to agree with that person regarding the division of royalties should the project be commercialized as a LEGO product.
</span>
This message was written by the LEGO CUUSOO Team. Do not modify the message in any way.
Congratulations on 1,000+ Supporters!
2012.05.29
First, this is an impressive sculpture of your workshop! The concept is a great way to commemorate the maker movement, celebrate women hackers and makers, and to highlight Limor Fried as a positive role model for young girls looking toward technology careers. A hackerspace playset could provide children an excellent introduction to the movement. We look forward to following your project's progress. Good luck on your journey to 10,000 supporters!
The LEGO CUUSOO Team
Ad blocker interference detected!
Wikia is a free-to-use site that makes money from advertising. We have a modified experience for viewers using ad blockers

Wikia is not accessible if you've made further modifications. Remove the custom ad blocker rule(s) and the page will load as expected.