Home
Talk

3
574pages on
this wiki
Please avoid e-mailing staff members of the wiki if they are inactive.
Welcome to the Unofficial LEGO CUUSOO Wiki!
Welcome to the UNOFFICIAL LEGO CUUSOO Wiki! This wiki is all about
LEGO CUUSOO
! This wiki is fan supported and fan updated and has no direct affiliation with The LEGO Group (a.k.a. LEGO). We do have a
Chat
, but please read the
Chat Rules
before getting on.
Brickimedia
The CUUSOO wiki is currently in the process of moving to Brickimedia. Open Beta for the new location is currently scheduled for December.
What is LEGO CUUSOO?
LEGO CUUSOO
is an official LEGO website, a product of a partnership with the Japanese website
CUUSOO
. On the site, people may submit ideas for new LEGO sets or parts. Other users may "support" the project. If 10,000 users support a given project, The LEGO Group (TLG) will review the project. If LEGO likes the idea then they will create their own version of the project using TLG design standards and then produce it as an official LEGO set or product.
Featured Project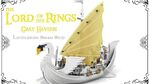 Lothlórien Swan Ship
is a
project
on
LEGO CUUSOO
created by
reekardoo
on October 21
st
, 2013.
Read more on the article>>
Please support here.
Vote for the next Featured Project
here.
1.Have an Idea?
Create a Project, share your product concept, and see what other people think.
2.Get 10,000 Supporters
Projects with 10,000 supporters are reviewed quarterly by LEGO for a chance to become an official LEGO product.
3.Receive Royalty
If your project passes review and is chosen for production, you will receive 1% of the total net sales of the product. See the guidelines for more details.
What can we improve on our wiki?