Jurassic Park


General Information

Project ID

47246

Author

Link

Statistics

6,495 supporters

74 comments

22 bookmarked

68,627+ views
Jurassic Park is a archived project on LEGO CUUSOO created by senteosan on August 20th, 2013. It gained over 1,000 supporters in less than a week after it was published. Its comment section was closed after over 200 off-topic comments were posted as a result of a controversy involving angry BrickQueen fans. The project has recently seen a major support boost which has pushed its support count to over 5,000 supporters. The project never received an official comment, causing some users to speculate that it would be archived due to another toy company holding the Jurassic Park license. These users turned out to be correct, and the project was archived only fourteen days after being published. The Tyrannosaurus Rex from the project has been published as an independent project, Bricksauria.
This message was written by the LEGO CUUSOO Team. Do not modify the message in any way.
Decision on Our Ability to Produce this Project
2013.09.03
First and foremost, congratulations on the well over 5,000 supporters for this project on LEGO® CUUSOO! You've created a beautiful 3D rendering of a Jurassic Park scene that could make a great LEGO set and have really rallied a community of fans behind it.

The bad news is, we've looked into the possibility of producing a set based on Jurassic Park, and since another company has the construction toy license for this IP, we can't pursue this further as a potential LEGO set. We're sorry to be the bearers of this disappointing news.

With any IP on LEGO CUUSOO is that there is the potential of a license conflict, either with an existing license or with a competitive licensor. Still, we think it's better to be open and allow for possibilities, knowing there will be "no" answers along the way, than shut out the potential of IP-based products altogether. After all, just because this project isn't a possibility doesn't mean all IP projects wouldn't be.

We've archived this project now since we know it isn't feasible, and we'll also archive Jurassic Park-based projects as they achieve 1,000 supporters. Your project will remain visible on LEGO CUUSOO, but in a status where it can no longer be supported or commented on. This way fans can still admire your creation.
Opening ourselves to new product suggestions invites popular ideas that don't always work. We are grateful for the spirit behind projects like this Jurassic Park project and for the opportunity to be challenged. It keeps us sharp and looking toward the future of the LEGO brick. We hope to see more projects from you soon.
The LEGO CUUSOO Team
This message was written by the creator of the project. Do not modify the message in any way.
"What have they got in there? King Kong?" - Ian Malcolm
The Jurassic Park Gate is a famous trademark of the Jurassic Park Series. It first appeared in the first movie 1993 when the tour cars entered the Park and it is definiately one of the most iconic scenes in motion picture history. Now recreated in Lego form too - ohh, with some extra spice...
I got this idea right before 3D version of first film hit theaters on April 2013 and since then I've been working on this project. I used a tremendous amount of time drafting models again and again, making sure that all propositions are right and each component looking as realistic as possible. I have always thought this as a display piece, like UCS -style eye catcher but there certainly is a lot play value here too.
Please note that pictures shown here at the moment are 3d renders as I'm still waiting real pieces to arrive so I can actually build it. I have created all models using LDD and tested that they are buildable and rigid enough - at some point I could share those LDD files with you. I'm still adding new pictures almost every day so keep checking back regularly for updates. See you soon!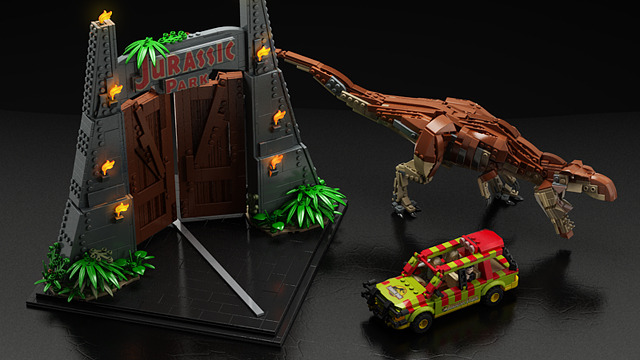 My proposed set would feature JP Main gate, JP Explorer (Tour car), Brickbuild T-Rex, Base/stand with also Dr. Alan Grant, Dr. Ellie Sattler & Dr. Ian Malcolm -minifigures
JP Explorer. It has space for four minifigs.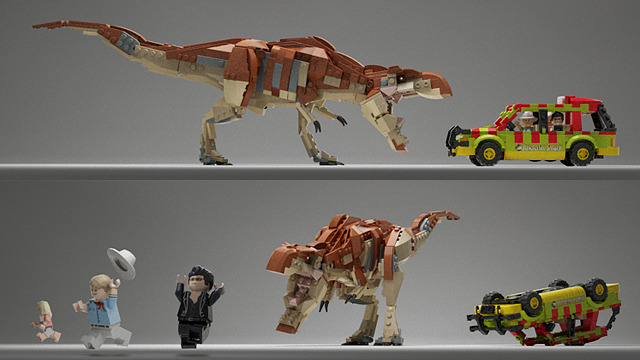 So if you're a Jurassic Park fan please add your support to this project. Thanks
Ad blocker interference detected!
Wikia is a free-to-use site that makes money from advertising. We have a modified experience for viewers using ad blockers

Wikia is not accessible if you've made further modifications. Remove the custom ad blocker rule(s) and the page will load as expected.