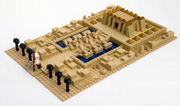 Indiana Jones and the Map Room at Tanis is a Deleted project that was on LEGO CUUSOO, created by therealindy. It depicts an underground temple that has a giant map of an ancient city on the floor. Not much else information is currently known, as the project was deleted and the description and many of the images, were never seen again.
One reason the project may have been deleted because it required the use of reviving old franchises for LEGO.
Ad blocker interference detected!
Wikia is a free-to-use site that makes money from advertising. We have a modified experience for viewers using ad blockers

Wikia is not accessible if you've made further modifications. Remove the custom ad blocker rule(s) and the page will load as expected.