Hindenburg


General Information

Project ID

9192

Author

Link

Statistics

1,000 supporters

181 comments

32 bookmarked

38,732 views
Hindenburg is a project on LEGO CUUSOO created by JJOttens on February 12th, 2012. It depicts the historic Hindenburg, one of the most famous Zeppelins of all time. It reached 1,000 supporters on June 3rd, 2013.
This message was written by the creator of the project. Do not modify the message in any way.
This is 1:100 scale model of LZ129 "Hindenburg" zeppelin.
The model is 245 cm long and 40 cm wide at its widest diameter. Details included: - Steering gondola - 2 fully detailed passenger decks - An Opel "Olympia" cabriolet (1st car ever to be flown over the Atlantic ocean) - 4 motor gondolas - 4 rear fins (including steerable flaps) And many more...
See my Flickr account for more photos. Or youtube for a short overview video. Or read the background article in the Hispabrick magazine: Hispabrick magazine No 15
View from the side, one of the two port motor gondolas are visible. To get an idea of the scale of this airship: On the lower beam that connects the front port motor gondola to the hull a little blue microfigure is visible. That figure is on scale with the rest of the model...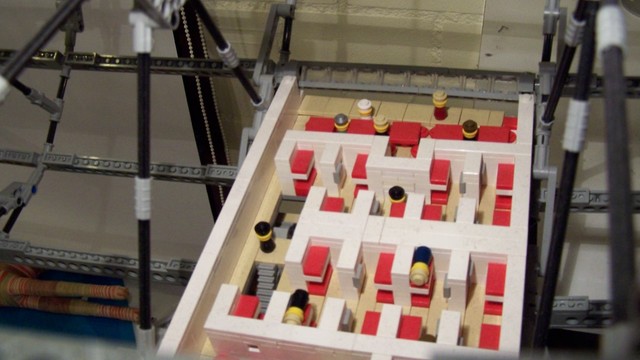 The upper passenger deck: 17 double rooms On the port side the dining area On the starboard side the lounge area (including the special-made lightweight piano) On both sides the large panorama windows 2 stairs to the lower deck with the toilet, bathroom, gamble & smoke room, bar and kitchen
A storage compartment with the aforementioned cabriolet and some crates and barrels A toolshop with a mechanic inside
________________________________________________________________________________________________________________
Coverage on the web: Microbricks: http://microbricks.blogspot.com/2012/02/plastic-zeppelin.html http://freshgadgets.nl/hindenburg-nagemaakt-met-lego http://www.gizmowatch.com/lego-hindenburg-scaled-down-model-sports-impressive-details.html http://brickfanatics.co.uk/hindenburg/ http://cappuccino.ncrv.nl/ (A dutch radioshow where I talked about the Hindenburg) http://www.airships.net/blog/lego-hindenburg http://thebrickshow.com http://www.hispabrickmagazine.com/en/content/english-hispabrick-magazine-015 http://brickultra.com/moc-of-the-week-hindenburg/
History: February 12th : posted on cuusoo February 23th : 50 supporters :) April 2nd: 100 supporters April 25th: 200 supporters April 27th: 10000 views May 27th: 400 supporters June 3rd: 20000 views July 31st: 600 supporters Sept 23rd: 30000 views December 18th: 800 supporters
A view from the inside looking to the front. The strengthening links between the spokes and the circlesegments are good visible. They add a suprising amount of rigidity to the structure.
Ad blocker interference detected!
Wikia is a free-to-use site that makes money from advertising. We have a modified experience for viewers using ad blockers

Wikia is not accessible if you've made further modifications. Remove the custom ad blocker rule(s) and the page will load as expected.