Gungan skate fish


General Information

Project ID

Unknown

Author

Link

Statistics

100+ supporters

Unknown comments

Unknown bookmarked

Unknown views
Gungan Skate Fish is a deleted project on LEGO CUUSOO created by Alkido on November 15th, 2012.
The project is an underwater vehicle designed to look like the Gungan Bongo from the Star wars series, however it would have included a few differences, such as only being made to seat one individual. alkido also claimed that it was designed, "for combat.' Despite it resembling the Gungan Bongo, it never appeared once in the Star Wars Series. Additionally, the submersable the project depicts isn't in the Star Wars movies, shows, books, or other related media as stated above. Instead, the project is something that Alkido invisioned, and has little to nothing to do with Star Wars other than it's similarity to another Star Wars submersable.
This message was written by the creator of the project. Do not modify the message in any way.
- The Gungans skate-fish sub is the first submarine of this series. As you can see, he has a family resemblance to the wonderful "Gungan Bongo".
- What's new on this model? This is a submarine for a single Gungan, more suited to offensive battle with more different weapons and, at the level of the playability, it has a very big advantage: it can be divided into two parts with its base and a mini detachable fully independent submarine! Yes, it is possible. :o)
- Through a short HD video, I'll try to show you all the possibilities of this model ! -Build with: LDD,including 520 bricks,interfaced with: LDD to POV-Ray Converter, rendered by: POVRAY and finalized by PHOTOSHOP.
Enjoy it !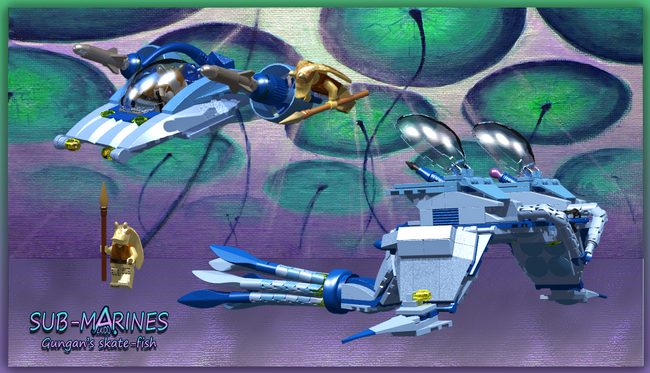 Ad blocker interference detected!
Wikia is a free-to-use site that makes money from advertising. We have a modified experience for viewers using ad blockers

Wikia is not accessible if you've made further modifications. Remove the custom ad blocker rule(s) and the page will load as expected.