Grand Prix Race Cars from 1934


General Information

Project ID

38430

Author

Link

Statistics

101 supporters

48 comments

4 bookmarked

1,709 views
Grand Prix Race Cars from 1934 is a project on LEGO CUUSOO created by bigboy99899 on April 5th, 2013. It contains four cars.
This message was written by the creator of the project. Do not modify the message in any way.
This set contains the four most successful race cars from the 1934 grand prix year:
the Alfa Romeo P3 - red the Auto Union Type A (today known as Audi) - silver the Mercedes W25 - silver the Bugatti Type 59 - blue.
The Mercedes-Benz W25, one of the "silver arrows" won four major races in 1934. Engine: M25 supercharged front-engine, longitudinally mounted, 3400cc. MAX Speed: 300 km/h (186 mph).
The Alfa Romeo P3 was first genuine single-seat Grand Prix racing car. Engine: Front mounted, Alfa Romeo, Straight-8 (two straight 4 blocks), Twin Roots Superchargers, 2905 cc. MAX speed: around 270 km/h (170 mph).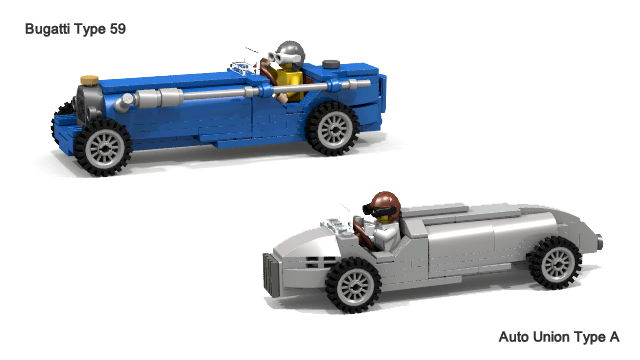 The Bugatti Type 59, only six or seven of them were constructed and used throughout the 1934 season, but they often fell well behind the German Auto Unions and Mercedes Benzs. Engine: Front mounted, Longitudinal V8, 3257 cc. MAX speed: 250 km/h (155 mph).
The Auto Union Type A were developed and built by a specialist racing department of Horch works in Zwickau. Engine: Rear mounted, V16 4358 cc. MAx speed: 280 km/h (174 mph).
Some race feeling: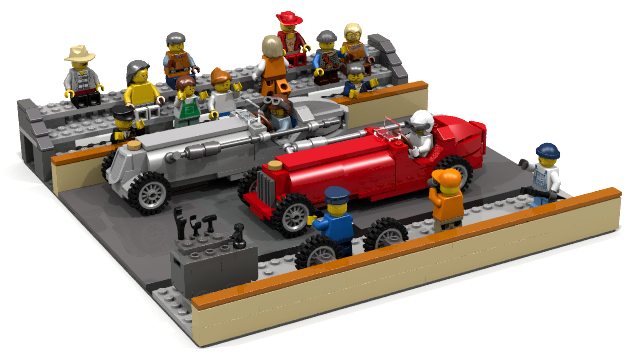 Ad blocker interference detected!
Wikia is a free-to-use site that makes money from advertising. We have a modified experience for viewers using ad blockers

Wikia is not accessible if you've made further modifications. Remove the custom ad blocker rule(s) and the page will load as expected.