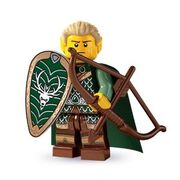 Elf Cloning Week is an unofficial annual event, that first begun in 2013, where users change their avatars to images of the LEGO Elf. It occurs on the first Monday of March and ends the next Friday.
A few users were suspended during the first (and currently only) phenomenon because the staff thought the organization of the event in projects' comment sections was "off topic", while F_Deity_Link was banned, not suspended, for advertising this event on the Space Troopers and - The Legend of Zelda Project - projects.
Participants
Ad blocker interference detected!
Wikia is a free-to-use site that makes money from advertising. We have a modified experience for viewers using ad blockers

Wikia is not accessible if you've made further modifications. Remove the custom ad blocker rule(s) and the page will load as expected.