E.T. the Extra-Terrestrial: Return Home


General Information

Project ID

49729

Author

Link

Statistics

707 supporters

141 comments

5 bookmarked

15,694 views
E.T. the Extra-Terrestrial: Return Home is a project created by tjspencer1, on September 19th, 2013. The project is based off Steven Spielberg's movie E.T. the Extra-Terrestrial. The project was once in The Top Ten.
This message was written by the creator of the project. Do not modify the message in any way.
Help Elliot, Michael & Gertie in the race to get E.T. back to his spaceship and return home. Recreate some of the most iconic scenes from Steven Spielberg's 1982 masterpiece with this 575 piece set.
(thumb640x360-1.png)
If you love E.T. I encourage you to support all related projects.*
Supporting takes two minutes and there is no obligation to purchase the item.
Special mentions & thanks:
28/09/13 - Robert Macnaughton (Michael) shares his approval on Facebook*

More Photos
Check out my other projects
Includes 5 minifigures:
E.T.
Elliot
Gertie
Michael
Medical Unit Officer
Accessories include: Elliots BMX, Speak n' spell, E.T.'s homemade communications satellite, Gertie's Red wagon radio flyer & Reeses Pieces.
Set includes House, Garden Shed & Medical Van with Mobile Cryo chamber. Has break apart wall when van drives off and floating plasticine in Elliot's bedroom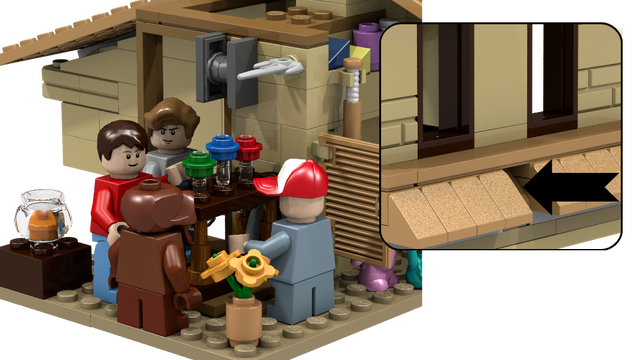 Press the roof tile and watch as E.T. explains where he comes from using the levitating coloured plasticine.
Quick! Hide E.T. in the toy closet. 'You wanna call somebody?' Build E.T.'s satellite and help him to call home.
Ad blocker interference detected!
Wikia is a free-to-use site that makes money from advertising. We have a modified experience for viewers using ad blockers

Wikia is not accessible if you've made further modifications. Remove the custom ad blocker rule(s) and the page will load as expected.