Combinators: Space Fleet Omega


General Information

Project ID

38904

Author

Link

Statistics

19 supporters

6 comments

0 bookmarked

911+ views
Combinators: Space Fleet Omega is a project on LEGO CUUSOO created by Pittstop on April 12th, 2013. It is part of a wider associated theme including Combinators: Constructors. The project originally only included one picture, but was later updated to include more vehicles.
This message was written by the creator of the project. Do not modify the message in any way.
Concept:
Combinators is a portmanteau of the words Creator and Combiner, which is what this pitch is. Micro construction kits similar to Creator sets, which can be combined WITHOUT dismantling them into larger super-robot sets.
Shown here is the proposed Series one sets which would form part of the "Space Fleet Omega" story of heroic superheroes versus the ultimate evil.
Fiction: For generations, a secret organisation has prepared for the return of the ultimate evil, the entity known as Darkon. Now, commanded by the enigmatic Omega, the Space Fleet, challenges the allies of Darkon where ever and whenever they appear.
Note:
There are some conceptual similarities to other "super robot" ideas, the selling point however is that this is specifically a micro-scale series, and would be a great pocket money collectors concept as each set would be under $5.
It should also be noted that most of the vehicles would be able to combine WITHOUT dismantling them.
For more information refer to the unofficial wikia page link.
More images available on my MOCpages gallery link
All the series one sets in their various robot forms, could be sold as one set or individually.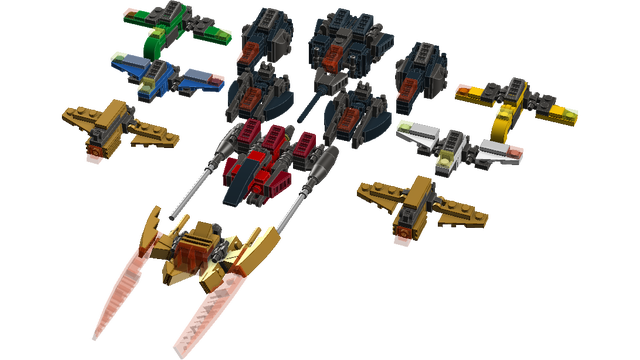 The 13 series one vehicles.
Back Row: Green space fighter, 2 black fighters and black bomber, yellow fighter. Centre Row: Blue fighter, 2 black interceptors, white fighter. Front Row: 2 gold fighter and red and gold bombers.
Note: of the designs shown, only Gold Bomber needs to be (partly) disassembled to combine with the other robot modes.
Example of a basic combined robot using only 5 component vehicles.
Note: Anyone who is familiar with my work via my mocpages or deviantart accounts will know that I normally refer to these designs as Space Ninjas. Because of overt similarities in concept with existing products by Lego and others (Bandai, Takaratomy, etc) I've changed the name. The back story isn't important. The important aspect is the scale and customisability.
Here are some more links for anyone interested in the concept. space ninja fleet
ultra mode
Ad blocker interference detected!
Wikia is a free-to-use site that makes money from advertising. We have a modified experience for viewers using ad blockers

Wikia is not accessible if you've made further modifications. Remove the custom ad blocker rule(s) and the page will load as expected.