Castle Crashers


General Information

Project ID

17648

Author

Link

Statistics

2,276 supporters

286 comments

11 bookmarked

60,000+ views
Castle Crashers is a project on LEGO CUUSOO created by czar on June 7th, 2012. It is based off of a popular side-scrolling downloadable videogame of the same name.
This message was written by the creator of the project. Do not modify the message in any way.
Castle Crashers is one of the all time best selling downloadable games on the Xbox 360 (XBLA) and also on the PS3. It is a great side-scrolling, button-mashing, medieval hack-n-slash.
I'd love to see an official LEGO set with all 4 knights, a couple baddies and an iconic setting in the game. Included here is the War Machine mini boss.
To those wondering about molding, the 4 knights share one head mold and the barbarian would need a head mold. Torsos and shields would need prints.
If the supporters go well, I'll add new iconic set ideas to follow.
Castle Crashers website: Castle Crashers From The Behemoth: The Behemoth
Edit: If you like this model, please check out and support my other models: Mechwarrior Atlas EVE Online Merlin
If this is your first time to visit LEGO cuusoo, please take a minute to check out and support some of the excellent models here. Once you start looking around, you'll be hooked! For example, AlexP has some beautiful medieval creations: Drake's Head Inn
Media is pouring in: playXBLA Twonk Hammer Joystiq Girl Gamers UK HookShot inc. Gamers Haven RoyalFlush Brick Ultra NAG Online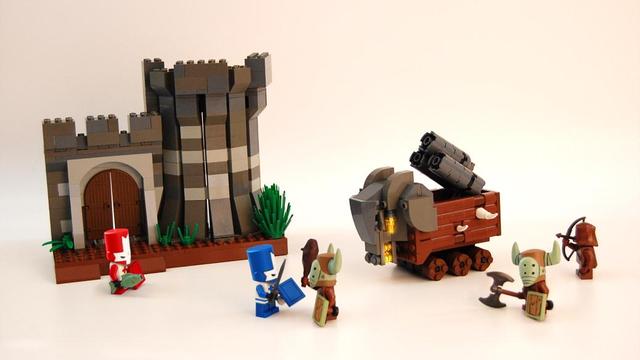 This is the original image but I've ditched the castle in favor of smaller scenery pieces.
This message was written by the LEGO CUUSOO Team. Do not modify the message in any way.
Congratulations on 1,000+ Supporters!
2012.07.16
Great job capturing the style and spirit of Castle Crashers with LEGO bricks! This is a cute, playable concept that is a great homage to the game, and it's no surprise you've leaped past the first 1,000 supporters. We wish you the best of luck on your quest to 10,000!
The LEGO CUUSOO Team
Ad blocker interference detected!
Wikia is a free-to-use site that makes money from advertising. We have a modified experience for viewers using ad blockers

Wikia is not accessible if you've made further modifications. Remove the custom ad blocker rule(s) and the page will load as expected.