Back to the Future(BTTF) - DeLorean Time Machine


Product Information

Product Number

21103

Pieces

401 pieces

Price

(US) $34.99
€34.99
£34.99

Age Range

10+

Set Release

(Europe, Comic-Con) July 18th, 2013
(Worldwide) August 1st, 2013

General Information

Project ID

96

Author

Link

Statistics

9,945 supporters

2,295 comments

113 bookmarked

549,800+ views
Back to the Future(BTTF) - DeLorean Time Machine is a project on LEGO CUUSOO created by m.togami and Sakuretsu. The project was started on October 1st, 2011, and reached 10,000 supporters on April 29th, 2012. It is the 4th LEGO CUUSOO product.
At first, there was doubt regarding the passage of this project, since the presented model featured a few "illegal" techniques, and LEGO would have to obtain a license for the potential set. But Universal seemed willing, and LEGO has produced a set based off of the project, with a release date of July 18th, 2013 in select European LEGO stores and a worldwide release of August 1st, 2013.
This message was written by the creator of the project. Do not modify the message in any way.
"MESSAGE FROM MASASHI"
My name is Masashi, a founder of Team BTTF. I'd like to thank you for visiting my page! I'm a Huge fan of the "Back to the Future (BTTF)" series, I even remember it as the first movie I've ever seen, and I've been in love with the series ever since! When I was a child I tried many times to build the DeLorean Time Machine, however, the project was a difficult one because I lacked some specific LEGO bricks and minifigures.
LEGO CUUSOO is where wishes come true. Also, I strongly believe quotes from BTTF. "If you put your mind to it, you can accomplish anything." "Your future is whatever you make it."
Now, my dream is to create a Back to the Future themed series through LEGO CUUSOO. Please support and spread the word about my dream to make this a reality!
Masashi, Founder of Team BTTF
---
Build Instruction Movie Part 1
Build Instruction Movie Part 2
Build Instruction "LDD File Download"
Message from Founder of Team BTTF after LEGO Review Passed
- Ultimate Collector's Series (UCS) DeLorean Time Machine
NEW - Jules Verne Train
Marty and Doc, mini figures from BTTF 1-3
DeLorean Time Machine from BTTF 1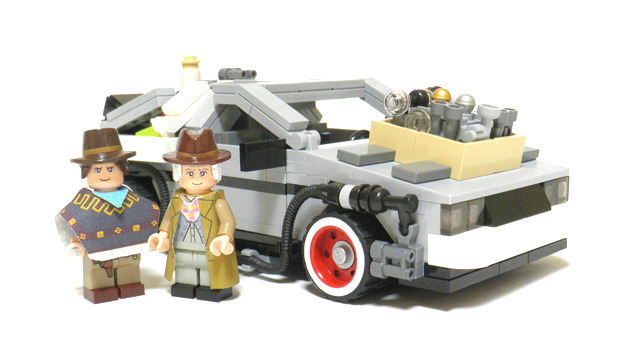 DeLorean Time Machine from BTTF 3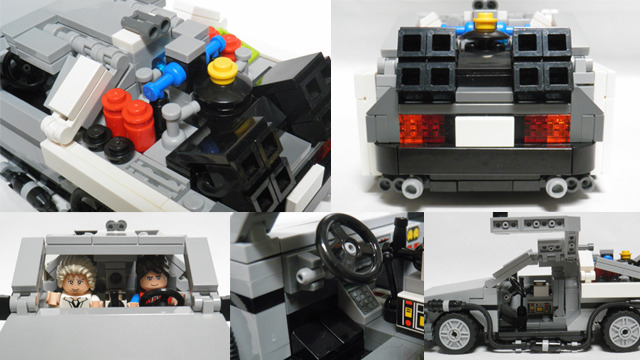 "PROJECT HISTORY" Interview with Team BTTF - 22th Feb 2013 LEGO Review Passed - 20th Dec 2012 Official Message from LEGO CUUSOO TEAM - 29th Apr 2012 10,000 Supporters - 29th Apr 2012 9,000 Supporters - 24th Apr 2012 8,000 Supporters - 8th Apr 2012 7,000 Supporters - 30th Mar 2012 6,000 Supporters - 13th Mar 2012 Official Message from LEGO CUUSOO TEAM - 5th Mar 2011 5,000 Supporters - 28th Feb 2012 4,000 Supporters - 16th Feb 2012 3,000 Supporters - 25th Jan 2012 2,000 Supporters - 17th Dec 2011 Official Message from LEGO CUUSOO TEAM - 29th Nov 2011 1,000 Supporters - 17th Nov 2011 500 Supporters - 19th Oct 2011 50 Supporters - 3th Oct 2011 0 Supporters - 1st Aug 2011
---
"RELATED INFORMATION" Nike Mag released 1500 pairs for auction on eBay - Sep 2011 announced The DeLorean DMC-12 EV for sale by 2013 - Oct 2011 announced
Back to the Future Trilogy (30th Anniversary in 2015) Back to the Future: The Ride (Only operating at Universal Studios Japan)
---
"SPECIAL THANKS" Samples built by Sakuretsu, Descriptions Edited by Brian Whitney
---
"APPENDIX" Michael J. Fox is my hero, and as such I'd like to donate ALL of the proceeds I earn from this project to the Michael J. Fox Foundation for Parkinson's Research. I love their organization and support their cause!
Visit a facebook page "Team BTTF" to produce another BTTF products. Please join us!
---
"提案者よりメッセージ" 私はまさしと申します。私は映画「バック・トゥ・ザ・フューチャー(以下BTTF)」の大ファンです。 BTTFレゴ商品化プロジェクトページにお越しいただきありがとうございます。
初めて見た映画はBTTFで、私が小さい頃、レゴ ブリックを使い、何度もデロリアンを作りましたが、とても難しかったです。なぜなら、特殊なブリックやいろんな色のブリック、マーティやドクのミニフィグが必要で満足行くものが作れませんでした。
私の夢はBTTF をテーマした製品シリーズをLEGO CUUSOOを通じて商品化することです。 是非私の願いに賛同してください。
サンプルビルドと写真はミニフィグビルダーさくれつさんの提供になります。
---
"MESSAGE DU MASASHI" Mon nom est Masashi et je tiens a vous remercier de votre visite sur la page de mon projet! Je suis un grand fan de la serie ≪ Retour vers le Futur ≫, c'est le tout premier film que j' ai vu et depuis lors je suis tombe amoureux de la serie ! Etant plus jeune j'ai souvent essaye de construire la Delorean, cependant ce projet etait difficile car il me manquait des pieces LEGO specifiques ainsi que des Minifigures. LEGO CUUSOO est un endroit ou les reves deviennent realite. De meme, je crois sincerement dans cette citation tiree du film : ≪ Tu peux tout accomplir dans la vie si tu as le courage de le rever ≫ Mon reve aujourd'hui est de creer les Machines a voyager dans le temps de Retour vers le Futur au travers de LEGO CUUSOO. Ce MOC et les Minifigures qui l' accompagnent ne sont qu' un exemple de mes idees.
S' il vous plait, apportez-moi votre soutient et parlez-en autour de vous afin de realiser ce reve !
This message was written by the LEGO CUUSOO Team. Do not modify the message in any way.
Congratulatory message from LEGO for 1,000 votes
2011.11.18
Hi,
Congratulations on crossing over 1,000 votes! We usually give this message at 500, so this is coming a bit late. Better late than never!
Our team is impressed with the detail in your DeLorean model and the Doc and Marty minifigs. Given the 30th anniversary of Back to the Future is coming up in 2015 we see the potential of some BTTF commemorative LEGO models. Keep the ideas and the supporters coming! Best of luck in your journey to 10,000 supporters.
The LEGO CUUSOO Team
This message was written by the LEGO CUUSOO Team. Do not modify the message in any way.
Congratulatory Message from LEGO for 5,000 votes!
2012.03.05
Dear m.togami,
Congratulations on passing this milestone of 5,000 supporters on LEGO CUUSOO for the Back to the Future DeLorean Time Machine! You're halfway there!
Over the coming weeks, veteran designer Steen Sig Andersen, the same designer who built the final Shinkai 6500 and LEGO Minecraft Micro World models, will investigate your DeLorean model and build our own concept. We will post the results here with our comments once that is complete.
Best wishes as you continue on your journey to achieving 10,000 supporters on LEGO CUUSOO.
The LEGO CUUSOO Team
This message was written by the LEGO CUUSOO Team. Do not modify the message in any way.
Congrats on 10,000 Supporters, m.togami!
2012.04.29
Slow and steady wins the race. You came out in front early on with the DeLorean model and you have done it thanks to hard work and persistence. The awesome LEGO model didn't hurt, either. Congratulations!
As we're approaching the 30th anniversary of Back to the Future, this project could not have come at a better time. Congratulations on achieving 10,000 supporters. We now officially advance this project to the Review phase.
What happens now? This project moves from the Idea stage to the Review stage. A "LEGO Jury" composed of designers, product managers, and other key team members will examine the idea. We'll build concept models and determine if the concept meets our high standards for what it takes to be a LEGO product, including playability, safety, and fit with the LEGO brand. Every LEGO product goes through a process like this and must meet the same standards.
Timing of the LEGO Review From here forward, the LEGO Review will take place quarterly. The next review will be held starting in June and will include all projects that reach 10,000 between now and then. We'll update the LEGO CUUSOO blog with additional details soon; this project crossed the threshhold before we were fully prepared to provide this update.
The review is a thorough process and from it's start, it will take several weeks. When finished, we make a "go/no go" decision to develop and sell the DeLorean. Naturally before we can announce the results of the review, we will need to secure a license to produce this product. We will inform you of our decision, and if green-lighted, this project goes into the longest phase of the project; the Development phase. During this time, LEGO model designers refine the product and develop it for release, we create the product materials (box, instructions, marketing), and get everything ready for a production run. This takes several months.
We will post followup information and our decision here.
The LEGO CUUSOO Team
Ad blocker interference detected!
Wikia is a free-to-use site that makes money from advertising. We have a modified experience for viewers using ad blockers

Wikia is not accessible if you've made further modifications. Remove the custom ad blocker rule(s) and the page will load as expected.