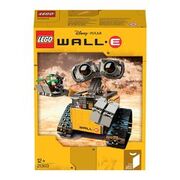 21303 WALL•E
 is a set based upon the popular American computer-animated science-fiction comedy film of the same name produced by Pixar Animation Studios.
Description
It includes a 7″ model of the WALL-E trash compactor robot. It has a posable neck, adjustable head, arms that move up and down and side to side, plus gripping hands and rolling tracks. It also includes a booklet about the designer and the animated Pixar movie.
Ad blocker interference detected!
Wikia is a free-to-use site that makes money from advertising. We have a modified experience for viewers using ad blockers

Wikia is not accessible if you've made further modifications. Remove the custom ad blocker rule(s) and the page will load as expected.