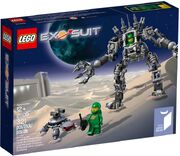 21109 Exo Suit is a set released on August 1, 2014. Though it was released early on July 26 in the UK.
Description
It contains 2 yellow barrels, 1 robot turtle with a base for it, two green classic style space minifigures (the green designating them as Mech Pilots), Yve and Pete (who are boyfriend and girlfriend, as said on the LEGO Ideas blog), and the Exo Suit itself.
Minifigures Included
Notes
The set has 2 all-new green classic space style astronauts.
Pete has the same face as Zane from Ninjago.
Gallery
Ad blocker interference detected!
Wikia is a free-to-use site that makes money from advertising. We have a modified experience for viewers using ad blockers

Wikia is not accessible if you've made further modifications. Remove the custom ad blocker rule(s) and the page will load as expected.